A Small Business Office Tour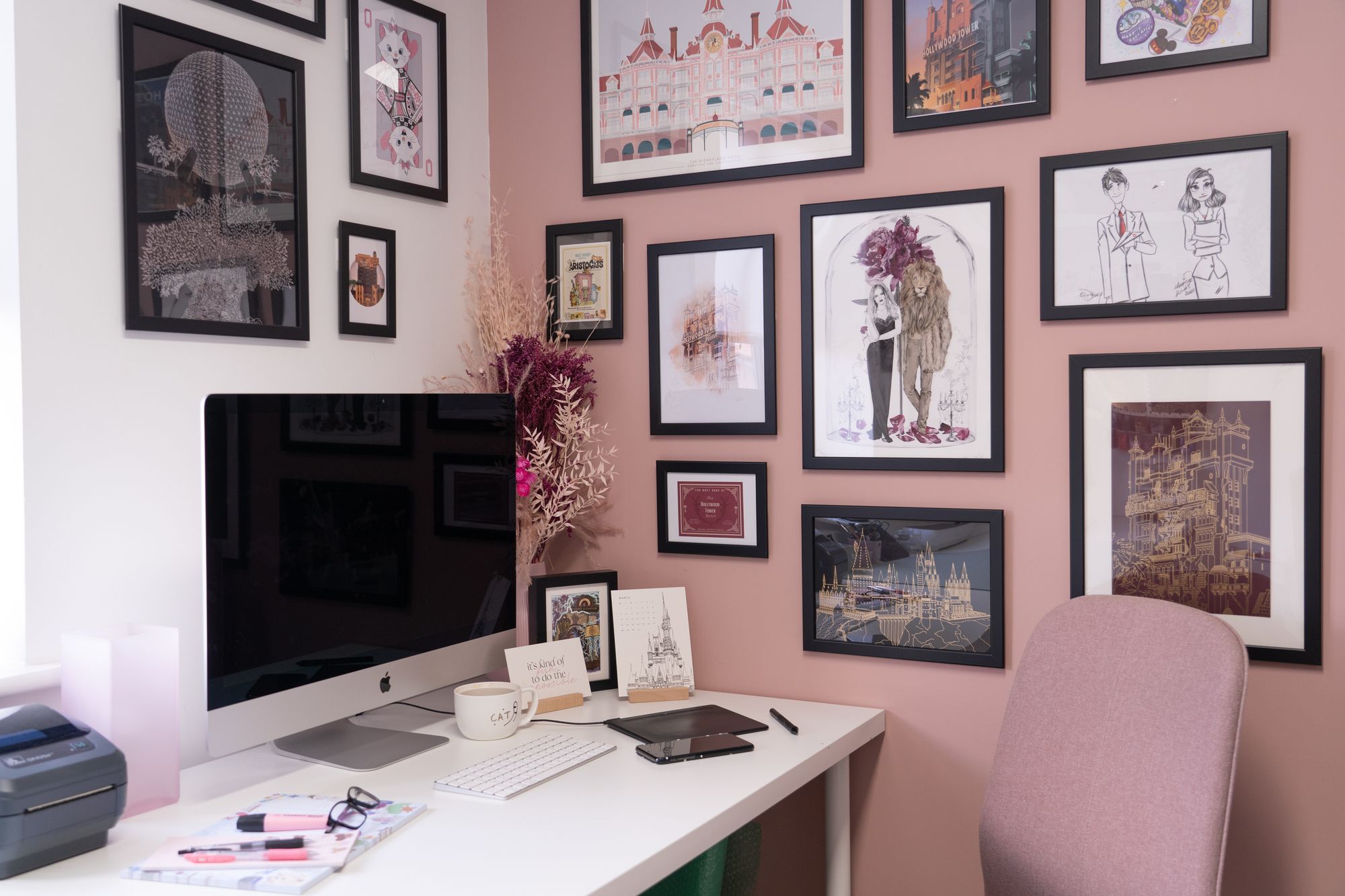 I've been working full time on Hayley Jade Design Studio for a year now (how time has flown!), and the spare room in our house that my husband and I shared has now exclusively become my office and has undergone a few changes over the past year to use the space as efficiently as possible. So I thought I'd share how the office is currently looking, as I'm really happy with how it is at the moment (with the space I have, of course more space would be great!).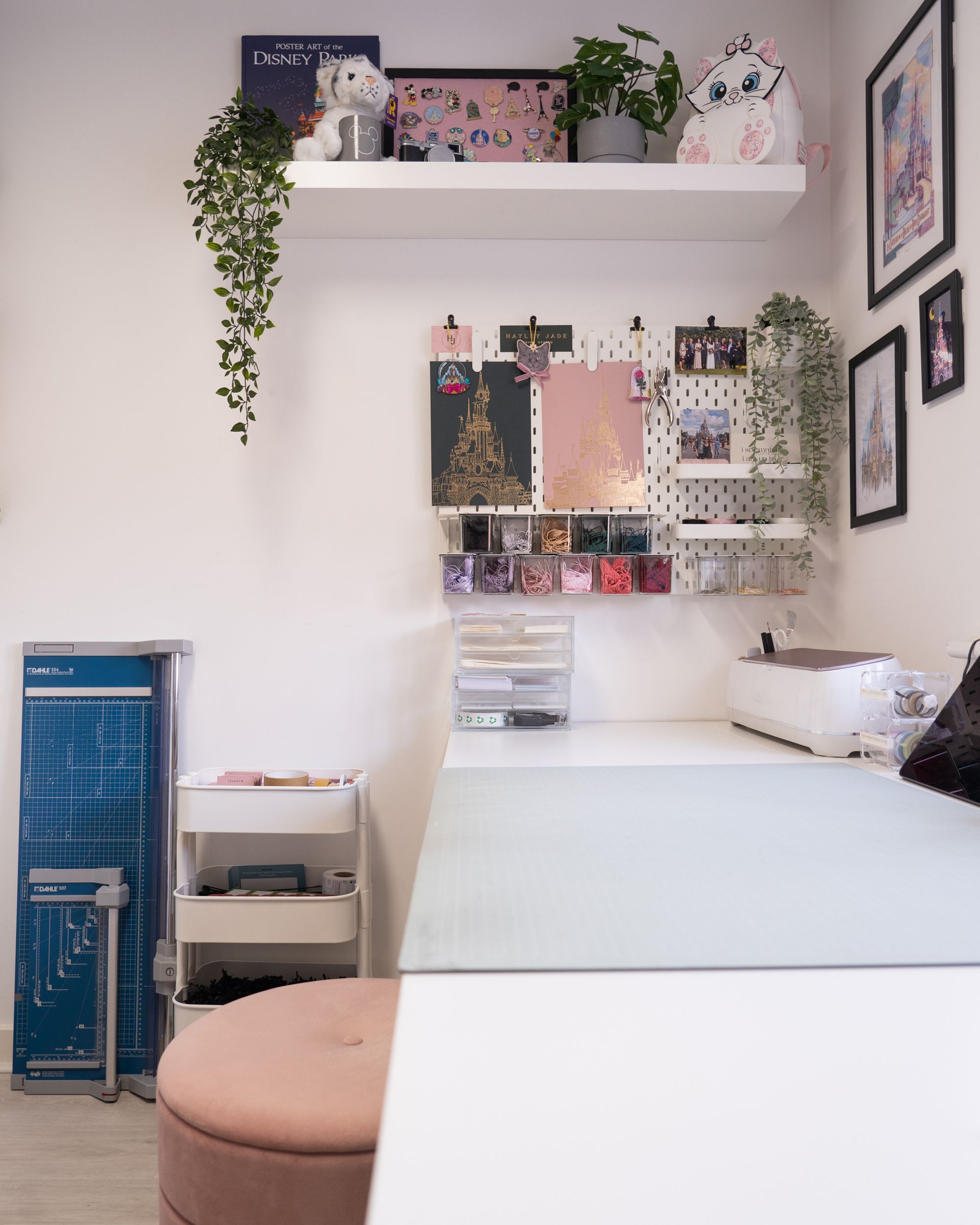 We'll start with the desk (well, two desks), pushed together across the widest part of the room. Before, they were opposite each other and there wasn't an awful lot of room in between them, and it was a bit restrictive, so this is much better. I've even treated myself to a cute pink (foot)stool so that I don't have to keep scooting my desk chair back and forth!
On one end I have my Mac and it's the part of the desk I like to try and keep as tidy as possible. I've created a gallery wall of prints that I've been collecting over time, as well as adding a few of my own illustrations such as the Magical Hotel and Foil prints. The rest of the desk is then the prepping, cutting, packing… you name it! area. And of course I have as much storage as I can fit underneath, including drawers and a large recycling bin (the amount of recycling I go through is a little crazy!)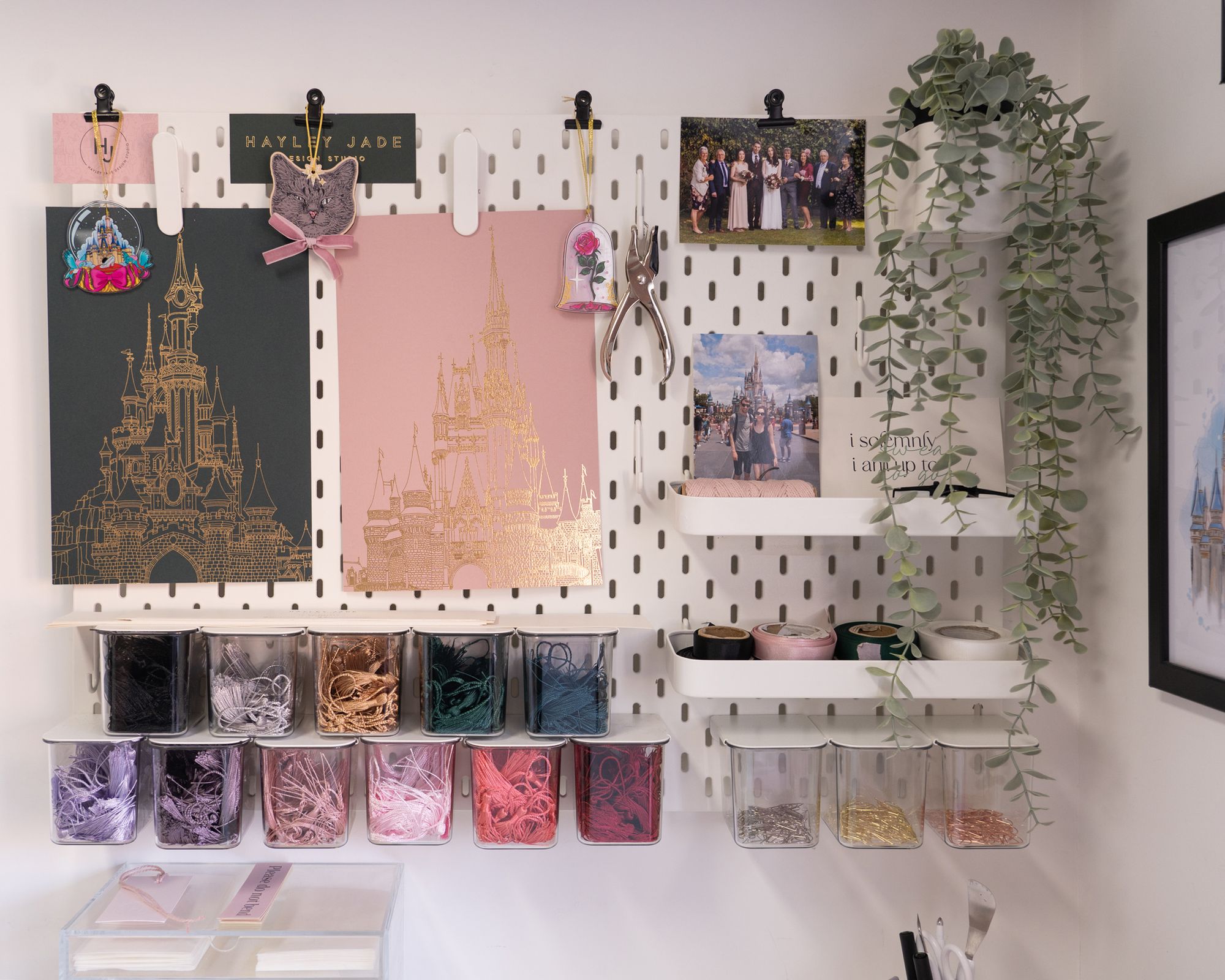 Adding the pegboard was a great storage solution, it's meant I can add smaller bits like tassels and ribbon within easy reach when I need them. Of course I had to add some personal touches and fake plants to pretty-fy it!
Underneath the desks is where i store all my cut to size paper in drawers, alongside my basket drawers where I use some of my pink storage basket/trays (I have so many of them! They're from Dunelm btw) to store bits like rolls of foil.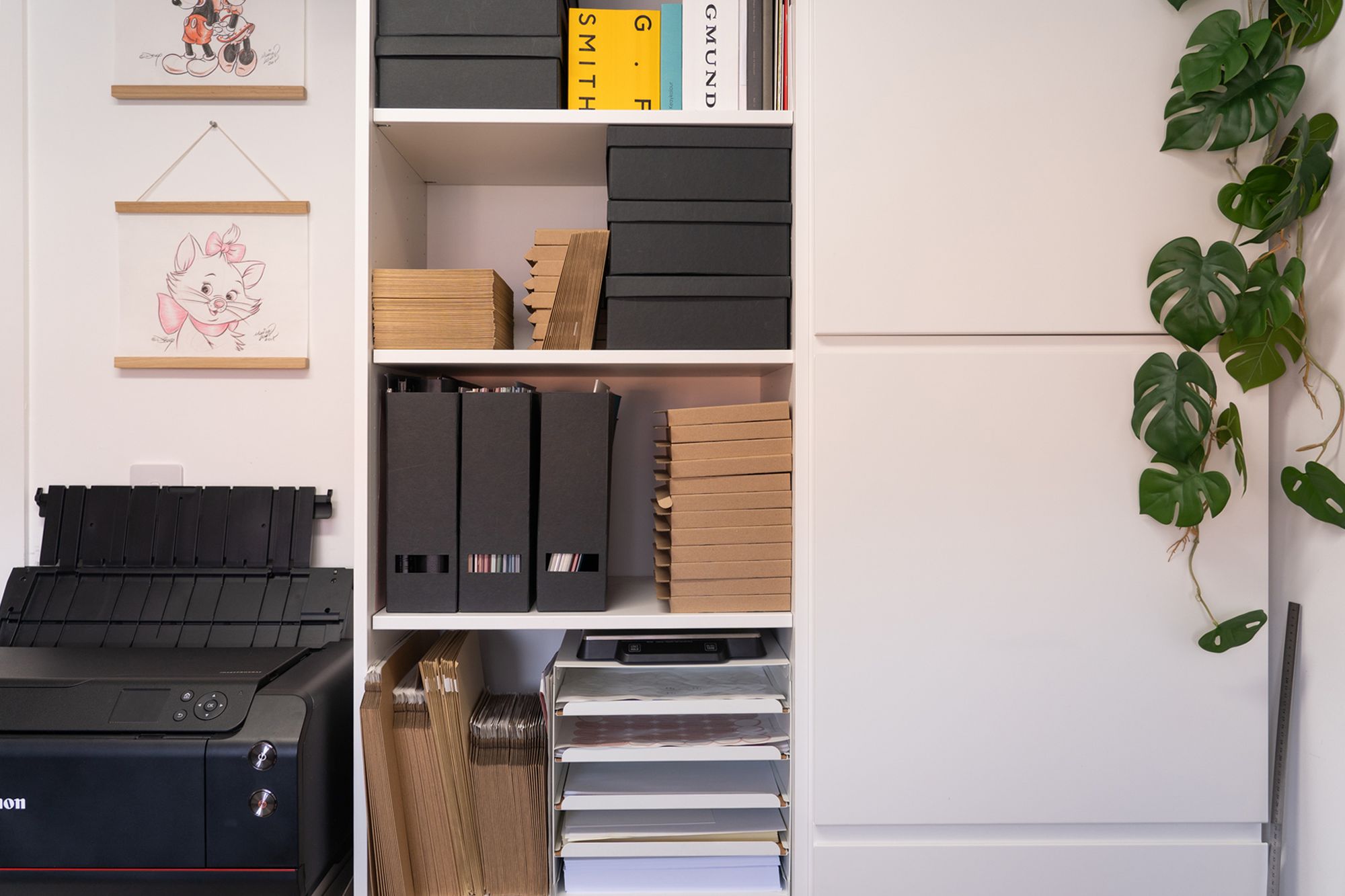 Opposite is the cupboard and shelving and my printer. Obviously the printer is my pride and joy and something I couldn't run my business without. I've written another post about my small business essentials with more information on it. The printer is sat on yet more drawers (can never have enough!), which hold more paper stock and my wrapping paper, whilst the shelves hold all the packing essentials from postal envelopes and boxes, to branded stickers. The idea was to have the shelves open so that I can just grab the packaging as and when I need it, and not have to either have a cupboard door open all the time and getting in the way or keep opening it!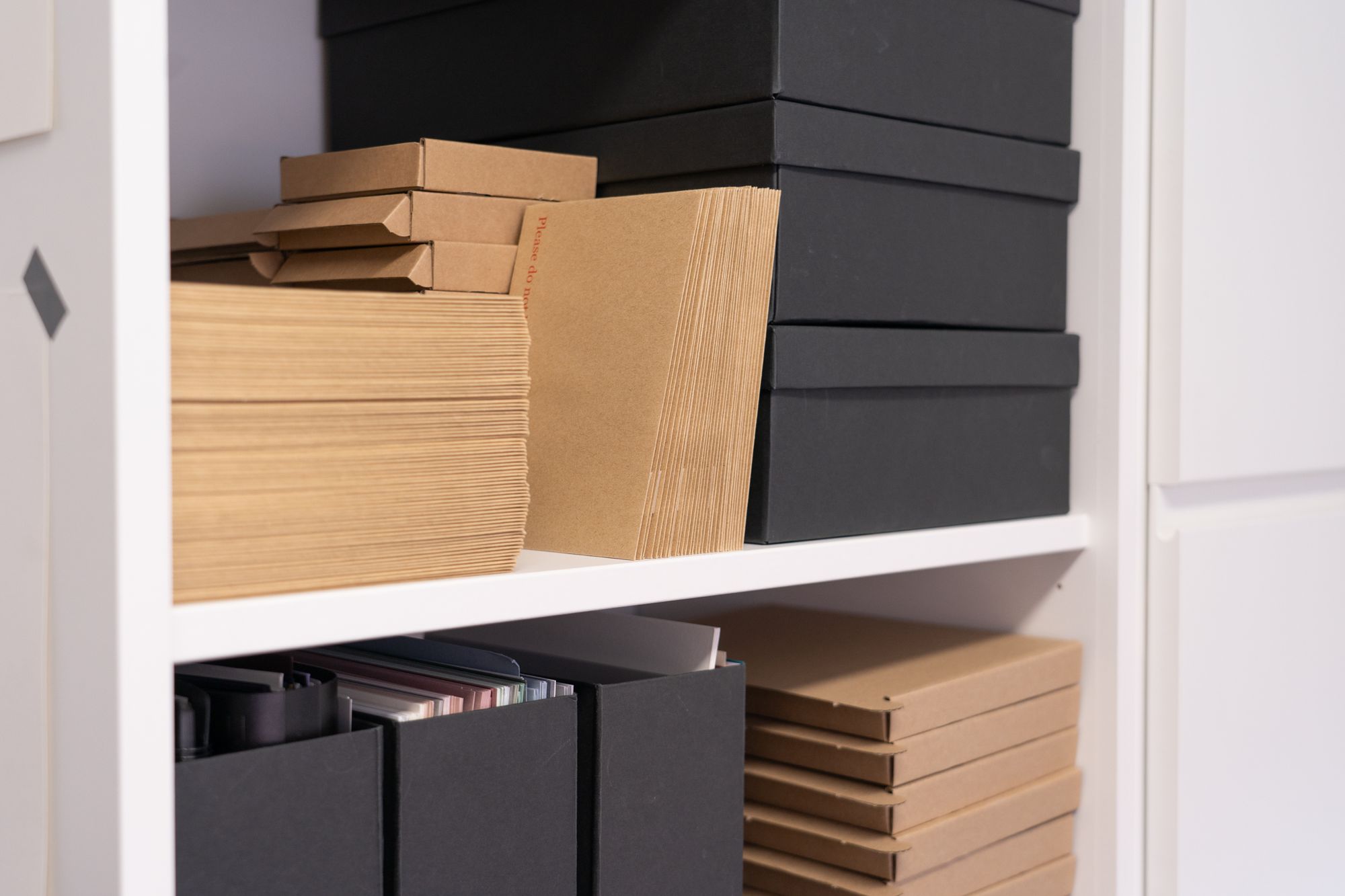 The cupboard side holds the items I have in stock such as notepads, and things like envelopes and my bookmarks - all of course stored in those pink trays which you can just see in the photo above. I like to have all these in a cupboard to avoid any dust or potential light bleaching. I try to put as much stuff in cupboards, drawers or boxes for this reason. I don't like having too much stuff hanging around as it makes the room look a mess and I hate mess - I assure you my office doesn't look this tidy about 90% off the time!
And I think that's about it! I'm always looking to try and improve the way the office is laid out so that it is efficient for me doing things, but obviously when space is limited there is only so much I can do. One day, I'll have a bigger space but for now, this works as perfectly as I can get it to.
Oh, and by the way pretty much everything from furniture to the fake plants are from Ikea. No ad/affiliate, just love that shop so much. Who doesn't?
---
Don't forget to follow me on Instagram for all the latest or sign up to the mailing list on the shop to be the first to know of new products, exclusives and 10% off your first order!